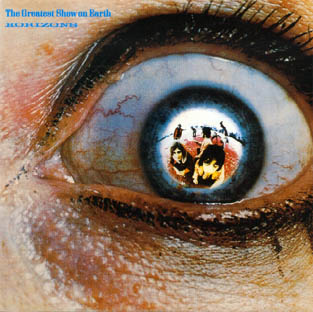 Greatest Show On Earth - Horizon - 1970
Track listing
1. Sunflower Morning (5:00)
2. Angelina (4:10)
3. Skylight Man (4:33)
4. Day Of The Lady (4:12)
5. Real Cool World (4:52)
6. I Fought For Love (4:26)
7. Horizons (14:02)
8. Again & Again (4:02)
Total Time : 44:37
Line-up
- Colin Horton-Jennings / vocals, flute, guitar, percussion
- Garth Watt-Roy / vocals, guitar
- Norman Watt-Roy / vocals, bass
- Mick Deacon / keyboards
- Ron Prudence / drums, congas
- Dick Hanson / horns
- Tex Phillpots / saxophone
- Ian Aitcheson / woodwinds
http://rapidshare.de/files/26461996/Horizons.rar.html
No pass, mp3@128, soryy for BR.
THE GREATEST SHOW ON EARTH were originally formed in 1968 by guitarist Garth-Roy and his bass-playing brother Norman. The original line-up included organist Mick Deacon, drummer Ron Prudence and three horns players, Dick Hanson, Tex Phillpotts and Ian Aitcheson. The band's first vocalist was black American Ozzie Lane but he returned to his native New Orleans a year later and was replaced by Colin Horton-Jennings, not only a strong gravel-voiced singer but also quite adept on the guitar, bongos and flute. The group's mixture of R&B soul, jazz and prog rock brought them to the attention of EMI's progressive label Harvest Records, who signed the band and issued, in february 1970, the single, "Real Cool World"/"Again And Again" which, though not a hit in the UK, gave the band a medium-sized hit across Europe where they were also an in-demand live attraction. Both tracks featured on their March 1970 debut LP, "Horizons" which was housed in a distinctive sleeve designed by Hipgnosis and coincided with a Radio One session for Mike Harding on which they played three new songs: "Borderline", "Mountain Song" and "Time". A second session for Harding, in November 1970, featured "The Leader" and "Check Me Into Your Life", the latter of which has never officially been released. "Tell The Story"/"The Mountain Song" had failed to chart when released in September 1970, and the same fate awaited the band's second album "The Going's Easy" though one track from the LP, "Magic Woman Touch" was later released by THE HOLLIES.
The lack of chart success contributed to the band splitting in mid-1971. Ron Prudence, Ian Aitcheson and Tex Phillpotts quit music altogether, whilst Horton-Jennings joined CHASER and later turned up in TAGGET releasing one self-titled album for EMI in 1974. Dick Hanson turned to session work and recorded with the likes of THE BLUES BAND, GRAHAM PARKER, DAVE EDMUNDS, KIRSTY McCOLL and SHAKIN' STEVENS. Mike Deacon joined VINEGAR JOE and then became a member of both the SUZI QUATRO BAND and DARTS. Norman Watt-Roy formed GLENCOE releasing two albums for Epic, "Glencoe" and "The Spirit Of Glencoe". He then formed LOVING AWARENESS, releasing one self-titled LP in 1976 for More Love Records, before the band eventually evolved into THE BLOCKHEADS, the backing band for IAN DURY. Today he is a member of the WILKO JOHNSON BAND. Garth Watt-Roy joined FUZZY DUCK before undertaking session work for the likes of EAST OF EDEN, LIMEY and BONNIE TYLER as well as being a member of MARMELADE, THE Q-TIPS and THE BARRON KNIGHTS.
Добавлено:
Now from my friend from France in @320
http://www.sendspace.com/file/66bu9v